mCommerce VS eCommerce: Which is Better to obtain more Conversions? 
The online commerce sector has seen a rapid boom in recent years. A major contributor to this explosive growth is the ongoing pandemic, which has compelled consumers to buy goods without stepping out of their homes. As a result, consumers can now shop for a range of brands, products, and deals- all from the comfort of their homes and at a time convenient to their preference. This has been an important factor driving up conversion rates in the eCommerce business. 
A very important benefactor behind the online conversion rates is the presence of mCommerce. A survey found that 85% of consumers prefer mobile apps over mobile websites and that a mobile app converts 157% more than a mobile web session!
This article will outline how mCommerce is a better alternative to eCommerce to obtain higher conversion rates. However, before we take a deep dive into why mCommerce is the future of the eCommerce sector, let us understand the terms involved.
How is mCommerce different from eCommerce?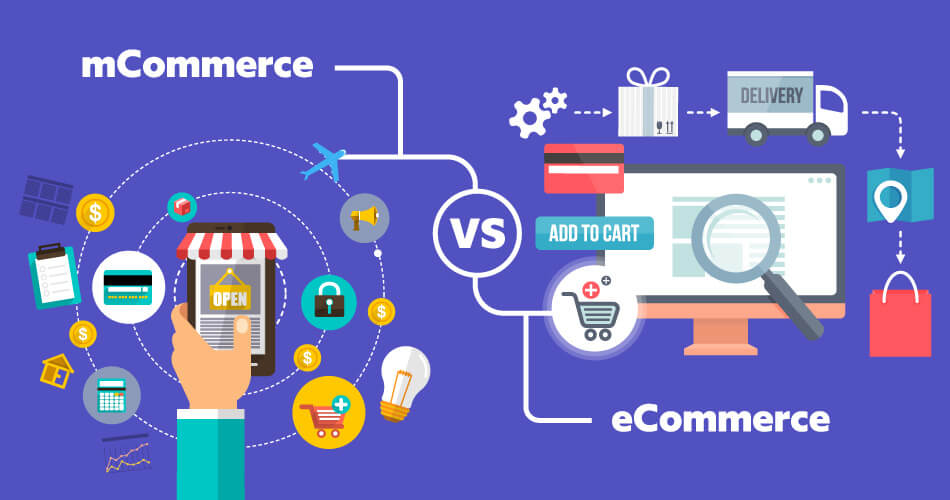 mCommece
mCommerce stands for Mobile Commerce, and it refers to the process of transactions done with the help of internet/cellular data via a mobile phone. 
Mobile Banking: Many banks now offer the service of a "banking application," which is an easy way to perform all banking transactions (ex: money transfers, bill payments, account statement checks, etc.) using a simple mobile application. 

Ticketing and Booking:  Consumers can now book "digital tickets" via their mobile device and receive them directly on their phone after the payment is successful. Users can simply show this e-ticket and travel with ease. No more is the need to stand in long queues to book a boarding pass. 

Bill Payment:  Easily pay bills without missing deadlines or having to wait in long queues with a simple click of a button.

Mobile shopping: Online shopping has never been so easy! Just install the application and proceed to browse the store's catalog to make a purchase with an easy in-app payment option.
eCommerce
eCommerce stands for Electronic Commerce, and it refers to the process of buying and selling goods and services with the use of the internet. The use cases of eCommerce are somewhat similar to mCommerce. 
Internet Banking: Banks offer a digital portal that can be accessed via a computer connected to the internet to perform transactions like transferring funds, checking account statements, making payments, etc.

Ticket Booking: Use the digital portal made available by the travel company to book your tickets using a computer via the internet. The only drawback is that this ticket can be downloaded to your system and will have to be either printed out or transferred to your mobile before boarding the vehicle. (One extra step in comparison to mCommerce)

Bill Payment:  Use the digital portal made available by the underlying company to pay your bills using a computer via the internet. The process of payment has the extra step of adding your details and choosing the preferred payment medium. In mCommerce, this information is already stored and linked to the device.

Online shopping:  Websites like Amazon are a perfect example of an online marketplace where sellers and consumers can sell and buy goods online. The process of checkout has the extra step of adding your details and choosing the preferred payment medium. In mCommerce, this information is already stored and linked to the device.
Market Trends in mCommerce
Let's look at some interesting statistics related to mCommerce, curated via a range of consumer surveys. This will help you understand why mCommerce is the future of online commerce.
1. The mobile commerce market is predicted to reach a CAGR of 27% by 2021-2026 (Source)

2. mCommerce adoption has been on the rise due to factors like the increased adoption of smart devices, better broadband connectivity, cheaper services, social adoption of mCommerce services, etc. (Source)

3. Mobile commerce contributed to 73% of the global ecommerce market share by 2021, compared to 59% back in 2017. Over the last six months, 79% of mobile users made an online purchase using their mobile devices. (Source)

4. The buying patterns of consumers with mobile apps are on the rise. The average order value from a mobile app is $102 compared to $92 from a mobile website (Source)

5. By the end of 2021, it is predicted that $221.2 billion worth of online sales will come from smartphones compared to $41.8 billion from tablets. (Source)
Why is mCommerce the Future of Online Commerce?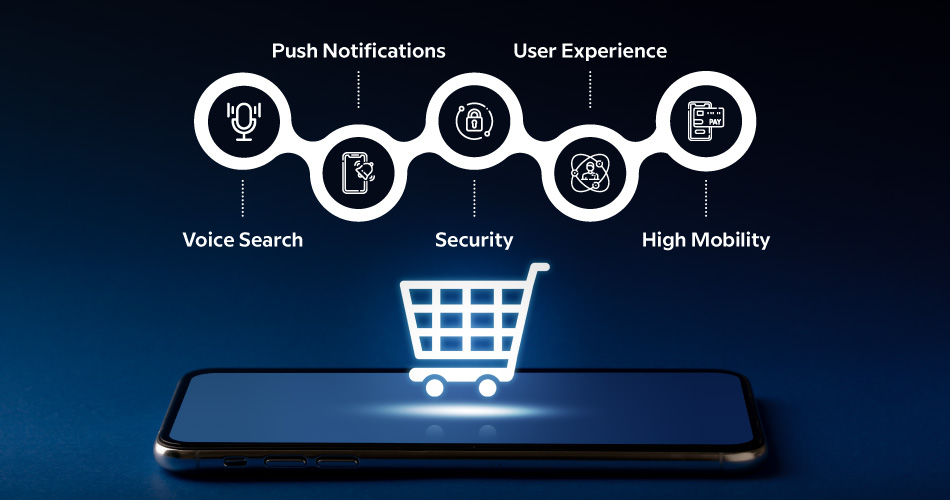 #1 Voice Search
mCommerce is a haven for integrated voice-based search and purchase. "Voice shopping" is predicted to reach $40 billion by 2022. A surprising 51% of people use voice commands to research products on the internet. 22% of consumers use voice search to make a purchase.
#2 Push Notifications
This one comes as no surprise. With push notifications in place, mCommerce can reach a wider range of users- globally-anytime and anywhere! For example, a simple push notification regarding a discount sale can make consumers open the mobile app and start buying almost instantly. So naturally, no one wants to miss out on a good sale! 
#3 High Mobility
The mobility achieved via mCommerce is very high. Users can perform transactions anywhere and anytime as long as they are connected to the Internet. 
#4 User Experience
Compared to eCommerce, the user experience on mobile devices is optimized to achieve as few "taps-on-screen per transaction" as possible. Information can be stored within the application for future use, thus eliminating the additional step of inputting user information and payment information each time a transaction is performed. Users can utilize in-app payments for a quick, safe, and secure way to shop.
#5 Security
Be assured of dual security while performing any transaction. This is made possible by the added web security layers combined with built-in mobile security features.
Business benefits Offered by mCommerce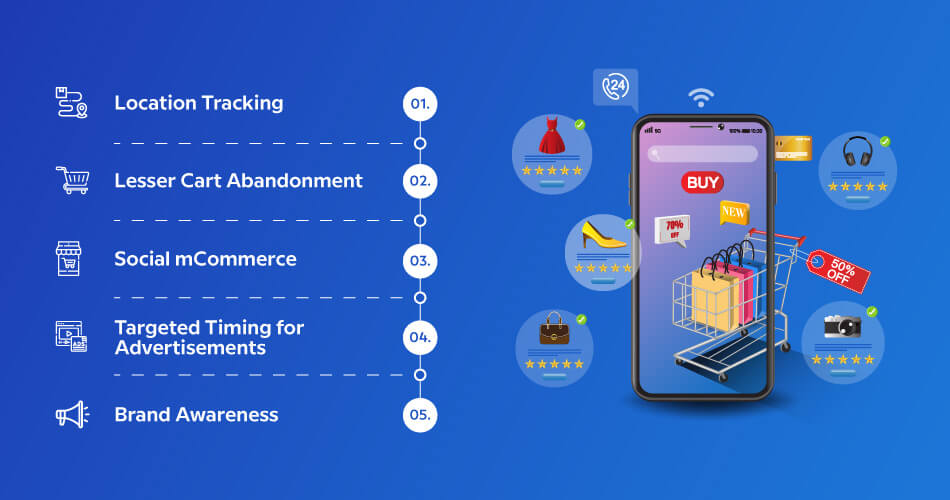 #1 Location tracking
Location tracking capabilities of eCommerce are limited owing to the non-portability of devices like a computer. mCommerce apps always reside on a consumer's phone- that is carried everywhere- and can track and identify user locations with the help of GPS and Wi-Fi. Utilizing this information, mCommerce apps can provide location-specific personalized recommendations to users. For example, if a user is near the location of a shopping mall, a simple push notification can alert the user of ongoing sales in the mall. 
#2 Lesser Cart Abandonment
Did you know that 97% of mobile site shopping carts are abandoned? In the case of mobile apps, it is just 20%. The main reason for this is the additional step of manually entering user and payment information each time a customer wants to buy something online. A mCommerce mobile app stores customer information to their user profile. So when it's time to checkout, they don't need to enter those details every time manually. 
#3 Social mCommerce
Social media apps like Facebook and Instagram are almost on every consumer's phone. Shoppable Facebook and Instagram pages empower customers to have a more direct way of purchasing the products they see on these social media sites. They just need to tap the post to check the products tagged, click on the product to buy directly, without having to open a new browser, navigate to the said website, and search for the desired product on their own.
#4 Targeted Timing for Advertisements
mCommerce gives you the ability to aim your marketing at precisely the right time using stored user data. These ads can be sent via simple push notifications during specific times of day, thereby increasing conversion rates. For example, you can easily track a common time when the customer tends to use the application. Using this data, a pop-up can be sent, alerting users of ongoing sales.
#5 Brand Awareness
The presence of an app in the consumer's mobile always reminds them of the brand, thereby increasing their loyalty towards the same.
Final Thoughts
The above statistics and advantages of mCommerce prove that this sector will continue to flourish and play a significant role in the online commerce industry. This sector is and will always be a major contributor to conversion rates. Are you looking to invest in a mCommerce business app?Biz4Commerce can be your ideal technology partner in helping you take your mCommerce mobile app to desired success. Our team of expert developers can work on creating the most beneficial and business-friendly app that drives sales. Get in touch to book your free consultation today!!